The '6 House Pub

Please join us at our popular & exciting
'6 House Pub in the 1896 House Barn,
a Pub with Panache!
Telephone: 413-458-1896
Toll Free: 888-999-1896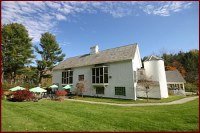 Open 7 Days
Lunch Saturdays & Sundays
From 11:30 AM to 4 PM
Dinner Daily from 5:00
Kitchen closes 9:30 PM Weekdays, 10 PM Weekends
*In order to expedite our service the '6 House Pub only accepts reservations for large parties
Gift Certificates are a perfect Gift
for any occasion!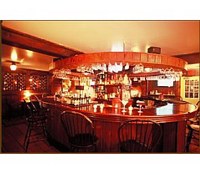 Gift Certificates are a perfect Gift
for any occasion! Click here to get one today!
We invite you to come and enjoy a meal at our '6 House Pub, sink down and have a glass of wine in our comfy wing backed chairs in our Common Room or sip a cold brew and enjoy some tidbits in the Tap Room.
Whichever your choice you will have an enjoyable and relaxing evening and end it stuffed with delicious favorites from our menus.
Our menu offers a range of options from classic pub appetizers like "Apricot Bourbon Chicken Wings" and "Garlic Mozzarella Sticks" to more upscale options like "Lobster Martini" and "Mussels Brussels". Don't forget to try our local favorite, lump Maryland Crabcakes with Roasted Red Pepper Sauce, quoted in a recent news article as "Having now tasted the version at the '6 House Pub, a new standard from crab cake excellence has been established" and "a well browned crispy exterior is perfect cover for the sinful richness of this version of (the writer's) favorite seafood classic."
We offer six varieties of soups daily, including 2 daily specials. Our 10 immense gourmet dinner salads include an "Asian Grilled Shrimp or Chicken, with Peanuts, Dried Cranberries, & Citrus Vinaigrette", and a "Grilled Plum, Granny Smith Apple, with Gorgonzola Crumbles & Glazed Walnuts". There are many Italian entrée options such as "Wild Mushroom and Cheese Filled Ravioli Alfredo", and "Chicken or Eggplant Parmesan". We offer steaks such as "New York Strip au Poivre with a Burgundy Cream Sauce", seafood like "Lightly Beer Battered Sea Scallops", and fish & chicken dishes such as Pan Fried Tilapia with Buerre Blanc" and "Black Raspberry Chicken".
Our sandwich menu is comprised of 12 interesting choices, most served on a grilled roll. We feature a pure "Lobster Roll", "French Dip", and a simple Turkey Club. But many of our patrons continue to order one of our six varieties of Burgers, such as our "Belted Galloway", with bacon belts and melted cheddar or our "Mediterranean Cow" with gorgonzola, grilled Portobello mushrooms, roasted red peppers, and tomato basil aioli
1896 House Inn & Country Lodgings
and the '6 House Pub
910 Cold Spring Road, Rte 7
Williamstown, MA 01267~
Call 1-888-999-1896, or 1-413-458-1896